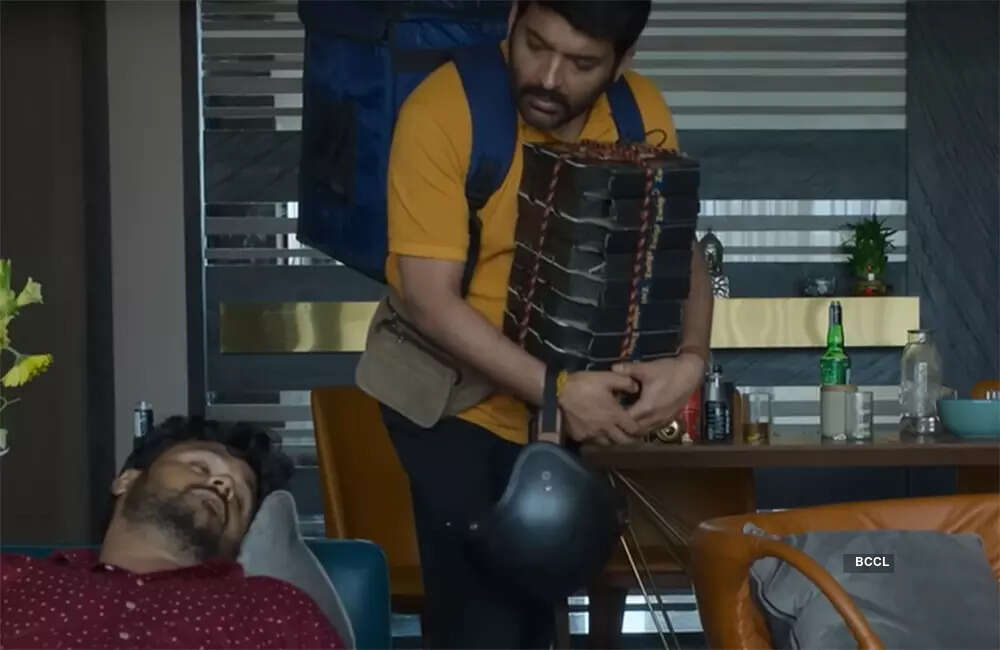 Zwigato Story:
Manas loses his job as a floor manager at a factory and takes up a gig as a delivery guy for a food delivery app. The movie follows his everyday life, which is replete with ratings, penalties, and running behind incentives. Things go awry in his otherwise warm family life when his wife Pratima decides to join a mall as the cleaning staff.
Zwigato Review: Food delivery people have become integral to our lives. We may rate and tip them, but how much do we know about what goes on behind the scenes as we wait for our food to arrive? Director and co-writer Nandita Das offers an insight into that through Manas Mahto (Kapil Sharma). But that's also a means to talk about the trials and tribulations a certain class of society (labour class) faces due to inadequate employment opportunities.
The film takes the viewer through Manas's daily hustle as his wife, Pratima (Shahana Goswami), seeks employment to support the family financially, despite his disapproval. We soon discover facets such as app companies dangling the carrot called 'incentives,' which takes the drivers down the rabbit hole of making maximum deliveries daily and how they are exploited at various levels. As Manas laments, 'Woh majboor hai, is liye mazdoor hai,' (He's a labourer because he's helpless) correcting a placard slogan that says, 'Woh mazdoor hai, is liye majboor hai' (He's helpless because he's a labourer).
The movie also sensitively touches upon the class and gender discrimination deeply embedded in our society. The tension of drudgery and desperation is palpable throughout the film, making it a poignant watch. Even though one knows that the economy, social system, and politics are interrelated, Zwigato packs in too much. At times it seems like a series of events stitched together, which hampers the flow of the narrative. While the first half builds the world at its own pace, the second part also takes things forward slowly, even dragging in many instances. Several sequences, such as an activist Govindraj (Swanand Kirkire) holding a protest, a man of a different faith being targeted, etc., seem slightly force-fitted.
As Nandita and co-writer Samir Patil adeptly present a relatable story, cinematographer Ranjan Palit masterfully depicts the commoner's world through the dingy bylanes of Bhubaneshwar where the story is set. Skipping Odisha's majestic structures and exotic beauty adds to the film's realism. The stop-motion animation when the credits roll as Yeh Raat plays deserves a special mention.
One is familiar with Shahana's prowess as a performer, and once again, she pulls off a fine act — from the local Jharkhand accent and body language to her mannerisms and expression. Kapil, however, is a revelation in this one. He gets his part as a loving but conditioned to be a misogynistic husband, snarky father, frustrated worker and a desperate man bang-on. Not once will you get a glimpse of the over-the-top comedian that he usually is.
Manas is shown to be profoundly frustrated with his situation, but in a bid to show that life goes on for people like them, the end is simplistic, abrupt, and, thus, seems unconvincing.
Overall, the film unfolds at a lazy pace, which could leave you restless. However, it is worth a watch for its intent and fine performances. Above everything else, what the movie effectively does is leave you with empathy for those who do odd or menial jobs to make our lives simpler. Think about it.