They say hell hath no fury like a woman scorned. But once upon a time in Hindi cinema, it was the jilted hero with a broken heart who used to infuse melodies with a mean streak. As far-fetched as it may seem today, there was a time when the Bollywood hero used to fire sharp arrows of emotion at the heroine and her boyfriend/fiancé. Everyone from
Dilip Kumar
to
Dev Anand
to Sunil Dutt and Manoj Kumar have been in this quintessential hot seat.
Former IRS serviceman and retired Commissioner of Income Tax turned author, Ajay Mankotia has an interesting chapter on this unique cinema trend in his book Bollywood Odyssey – The Singing Taxman's Journey into Film Music. Even the title of this chapter evokes instant curiosity. It's a quirky play on the term PDA on this time the acronym expands into 'Public Display Of Angst'.
Here's an extract from the book Bollywood Odyssey – The Singing Taxman's Journey into Film Music:
"In the '50s and '60s what did the Indian man do when his ladylove rejected him? He would reason with her; maybe plead with her; or perhaps even threaten her. Or he would see her viewpoint and accept it gracefully; he might even become her friend. Of course, he would get hurt. He would either take it on the chin, or hit the bar, dive into depression, or withdraw from society. But eventually, things would become normal, and he would move on in life.
But in that era the Indian film hero did one thing more—which you and I did not get to. He would attend her engagement or wedding ceremony, or any social function where guests and her new beau were in attendance, sit at the piano, and sing out his anguish, his disappointment, his ire, his frustration. He would be wry; his words would reek of double entendre. He would remind her of their love. But he would also assure her that he bore her no ill-will and would quietly exit from her life. He would wish her a happy future with the partner she had chosen. All very dignified, no violent outburst. All this drama would ensure that the lady's special day was wrecked. A final musical good riddance!
One of the earliest such song was 'Jhoom Jhoom Ke Nacho Aaj, Gao Khushi Ke Geet' from Andaz (1949) sung on screen by Dilip Kumar. This Naushad–Majrooh classic had Mukesh doing playback duty and as was his wont, he packed the song with pathos (in fact, all the four songs of Dilip, as well as one unreleased song were sung by Mukesh). Dilip, who loved Nargis, was devastated to know that she only treated him as a friend and was engaged to Raj Kapoor. On the piano, before a large gathering of the glitterati, with Cuckoo doing her dance routine, he expressed his pain ("Kisi ko dil ka dard mila hai, kisi ko man ka meet"). Nargis squirmed uncomfortably while Raj Kapoor looked quizzically at her.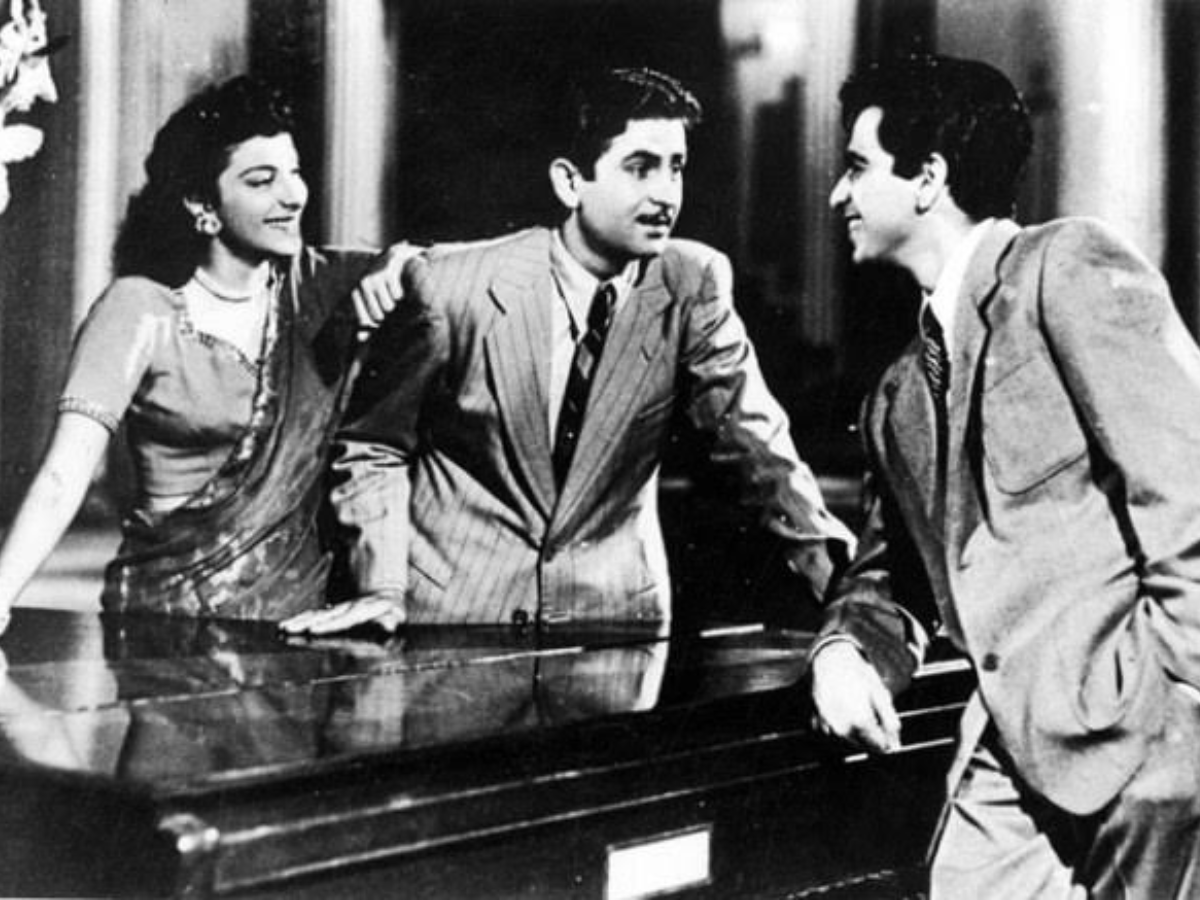 Who can forget Dev Anand poignantly pointing out to Asha Parekh that "Quaid mangi thi, rihai toh nahin mangi thi" in Jab Pyar Kisi Se Hota Hai (1961)? The song 'Teri Zulfon Se Judai Toh Nahin Mangi Thi' was a classic Shankar-Jaikishan/Hasrat Jaipuri creation, sung feelingly by Rafi when he was at the peak of his career in the early '60s. Pran, in a suit and a hat, was the third angle in this song, very happy with the turn of events.
Then there was 'Rang Aur Noor Ki Baraat Kise Pesh Karoon' from Ghazal (1964) sung by Sunil Dutt, in the voice of Rafi. His lady love Meena Kumari, upstairs with other ladies, was getting ready for the wedding ceremony while Rehman, pleased as punch, was sitting downstairs with the men and the maulvi. Sunil, in his graceful style, launched into a lament ("Main un apnon mein hun jo aaj se begaane hain"). 'Dil Jo Na Kehe Saka' was the gold standard in this genre. From Bheegi Raat (1965), Rafi belted out this emotion-packed humdinger of a song from the word go ("Chaliye mubaarak jashn dosti kaa, daaman to thaamaa aap ne kisi kaa").
Manoj Kumar sang 'Naseeb Mein Jiske Jo Likha Tha' to Asha Parekh in a restaurant in Do Badan (1966). He let her know that "Kisi ke hisse mein pyas aayi, kisi ke hisse mein jaam aaya". Pran played the third person in the equation. The lyrics, which won Shakeel Badayuni the Filmfare nomination, were beautifully composed by Ravi (also nominated) and sung by Rafi.
Who doesn't remember Shammi Kapoor's 'Dil Ke Jharoke Mein Tujh Ko Bitha Ke' from Brahmachari (1968)? The ambience of the pain of parting created by Shankar-Jaikishan's Filmfare-winning music (the orchestration, the humming, the piano, the saxophone), Hasrat's lyrics, and the dancing ensemble was truly sensational."
The author also points out that this subtle mean streak wasn't just the man's domain. Women also enjoyed a good roast. An excerpt reads:
"It was not only the Hindi hero who felt wronged. Women also went through the same emotions and chose the public forum to air them. The most memorable example was 'Ajeeb Dastan Hai Yeh, Kahan Shuru Kahan Khatam' from Dil Apna Aur Preet Parai (1960) where Meena Kumari let Raj Kumar, sitting with Nadira, have it—"Mubaarakein tumhe ke tum kisi ke noor ho gaye, kisi ke itne paas ho ke sab se door ho gaye." Also, 'Dushman Na Kare Dost Ne Woh Kaam Kiya Hai' from Aakhir Kyon (1985)."
Bollywood Odyssey—The Singing Taxman's Journey into Film Music is published by Readomania. These excerpts have been taken from the book with the author's permission.