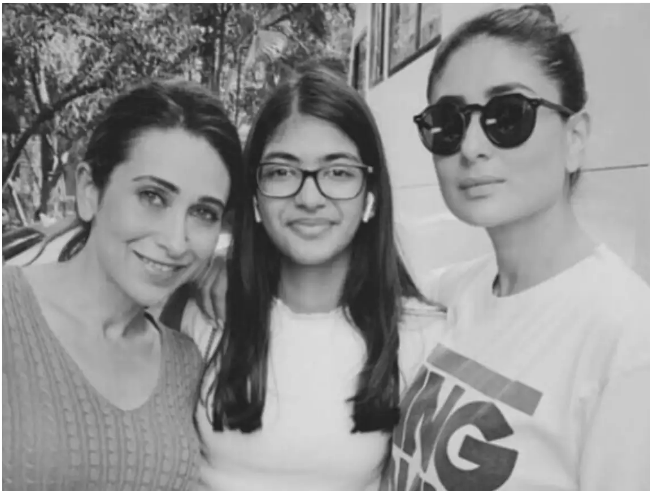 It might be the biggest cliché ever said, but kids do grow up fast! Karisma Kapoor's daughter Samaira Kapoor turned 18 today and the proud mom could not have been happier! She took to her IG handle to wish her princess a very Happy Birthday.
Sharing three pics, Karisma wrote, "Happy 18th birthday to my baby girl 💜❤️💜❤️#mamasworld🌎". In the first pic, the birthday girl can be seen posing in front of the cake, while in the second, a hazy mum and daughter seem to be having fun at the party. Finally, we catch a glimpse of Samaira's cake in the third pic.
On the other hand, doting aunt Kareena too, took to her IG handle to share many pics of the birthday girl, along with Karisma. She wrote, "Lolo's baby girl is 18… Our darling Sama is ready to fly ♥️⭐️Take on the world my girl… 'cause I'm always here to protect and love you forever… ♥️Happy 18th birthday Samaira… ♥️✨"
Earlier this month, ETimes had exclusively reported that Lolo and Bebo's parents Babita and Randhir Kapoor are back to staying together. Karisma Kapoor and Kareena Kapoor's mother has moved into her husband's new home in Bandra, bag and baggage. Karisma and Kareena are very happy that Babita and Randhir are taking care of each other under the same roof. What is surprising here is that this reunion has gone totally unreported since 7 months. We hear, Babita moved in with Randhir soon after he came away from his ancestral Chembur home to his new Bandra property.
Babita and Randhir Kapoor married in 1971 and separated in the 1980s. However, they never legally divorced and have never remarried.