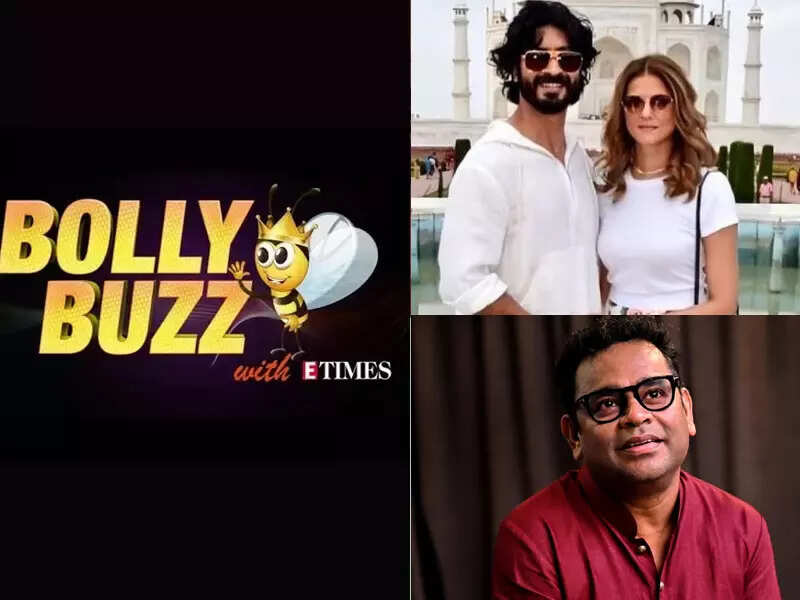 For those craving some good old celebrity gossip, break-ups and patch-ups or some filmy deets, Bolly Bee is serving up all the latest headlines on this episode of Bolly Buzz. Stay tuned for all the updates, because they are all things spicy!
Who would have thought we'd be getting news of a celebrity break-up at Alanna Panday and Ivor McCary's wedding festivities? Bolly Bee was minding her own business when word travelled that Vidyut Jammwal Nandita Mahtani have gone their separate ways. Although the couple attended the haldi ceremony, buzz is that they maintained a distance from each other." Vidyut's reclusiveness in the social circuit is a reason behind their distance," said the source. The duo got engaged a while back and were expected to take the plunge soon.
If you ask Mouni Roy's husband Suraj Nambiar about couples keeping their distance, he'd probably tell you it's a good sign. The businessman even said, "I advise long-distance relationships" and went on to add that it was good, especially for people who like travelling. "I don't think if we hailed from the same city, we would have taken so many trips that we ended up taking," he told our bees.
After all the success at the Oscars, fellow Academy Award winner AR Rahman said that he feels India is sending the 'wrong movies' into the Oscar race. Without taking any names, the musician said that he often sees "Wrong movies are being sent for the Oscars. AndI am just like DON'T!" The key to picking the correct film, he says is 'to be in another person's shoes."
In some filmy news coming our way, our bees hear that Akshay Kumar and Ishaan Khatter are bringing their films to a TV set near you! Saving us all a trip to the theatres, buzz is that Akki is likely to ditch the theatre for an OTT release for his movie 'OMG 2'. We couldn't help but wonder if his recent box office performance had anything to do with it. Meanwhile, Ishaan's war drama 'Pippa' may also debut on the small screen owing to a legal battle that the film's producer has been embroiled in with theatre owners demanding hefty fees to screen the films.