The Fujifilm GFX 100 Cam Technology
Welcome to The Beta Tech. Today I will tell you and discuss the information about the features of The Fujifilm GFX 100 Cam Technology in detail.
Overview To Fujifilm GFX 100 Cam Technology
Fujifilm had already done a good job of redefining what we should expect from medium format cameras before the Fujifilm GFX 100 came along, but this third addition to its GFX line is quite a departure from the previous GFX 50S and GFX 50R models that laid its foundations.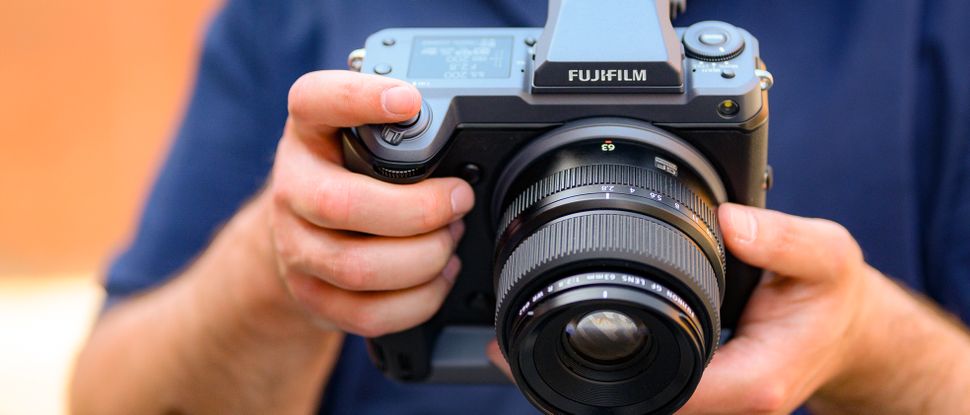 Here, the sensor is the star, carrying 102MP. Being able to output images with this kind of resolution is not new, nor is it confined to medium format models. But it's the combination of the camera's medium format sensor, mirrorless design, price point and the fact that such images are output as standard, rather than through any special sensor-shifting wizardry, that makes the GFX 100 special.
Features Of Fujifilm GFX 100 Cam Technology
102MP medium format BSI CMOS sensor
5-axis sensor-based image stabilization
G lens mount
Fujifilm refers to the 102MP sensor inside the GFX 100 as being "large" format, although it bears the exact same dimensions as the sensors inside the GFX 100's sister models that Fujifilm classes as medium format. It boasts a back-illuminated design for better light-gathering and is fronted by a conventional Bayer RGB color filter array, rather than being based on the X-Trans architecture found inside most of the company's X-series models.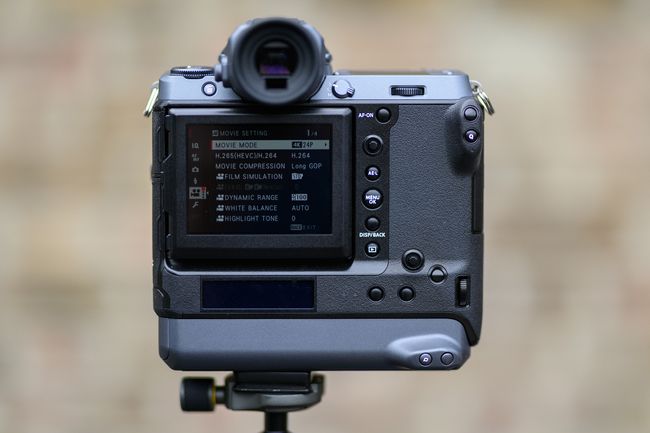 FUJIFILM GFX 100 Tech SPECS
Sensor: a Medium format, back-illuminated 102MP sensor with Bayer color filter array
Lens mount: G Mount
Screen: 3.2-inch touchscreen LCD with three-axis tilt, 2.36 million dots
Viewfinder: Detachable EVF, 5.76 million dots, 0.86x magnification
Burst shooting: 5fps (2.9fps with electronic shutter)
Autofocus: Hybrid phase- and contrast-detect AF
Video: 4K to 30p
Connectivity: USB-C (3.2 Gen1), micro HDMI (type D), 3.5mm mic port, 3.5mm headphone port, Wi-Fi, Bluetooth 4.2
Battery life: Approx. 800 frames (CIPA rating)

Weight: Approx. 1,320g / 46.6oz. (including batteries and memory card)

The company's G lens mount in front of the sensor accepts a small but growing collection of GF lenses, which is split between prime and zoom options, and currently covers a reasonable selection of focal lengths and apertures. Some of these options have their own Optical Image Stabilization (OIS) systems, although the GFX 100 comes equipped with its own five-axis sensor-based stabilization system that can work on its own or in concert with these systems, to the tune of 5.5 stops – not something we've seen before on a medium format camera.
Build and Handling
Magnesium alloy construction
95 seals for weather resistance
Integrated vertical grip
While the initial GFX 50S resembled Fujifilm's X-H1 X-series camera, and the GFX 50R an enlarged version of its rangefinder-Esque X-E3 model, the Fujifilm GFX 100 has been fashioned with its own vertical grip to give it more of a Canon EOS-1D X Mark II / Nikon D5 pro sports DSLR styling. This grip can't be removed from the body, which is probably just as well considering that it houses the two chunky batteries that power the camera.
The grip is perhaps the weakest point of the GFX 100's overall design. While it's furnished with a secondary shutter release button, along with a set of command dials and other controls that make such a design useful for portrait-orientation shooting, its thinness, together with its lack of sculpting and rubber. And an AF lever that's awkwardly recessed on one side, makes the camera far less comfortable to hold and operate in this mode than in the landscape orientation. It's usable for the occasional shot, but the design seems like something of an afterthought. And nowhere near as refined as on the likes of the Olympus OM-D E-M1 X.
Exposure Compensation 
Instead of the usual physical dials to regulate exposure compensation, ISO, shutter speed. And so on, the GFX 100 enables you to bring up virtual dials on its top-plate LCD screen. You may prefer this, you may not; there's a very small delay as you adjust these, which gives you a sense of disconnection that you don't find with the physical dials on other bodies. That said, it's arguably a good use of space. As you can quickly alternate between these and a more traditional shooting/camera settings display. And even a histogram if you want to keep an eye on the tonal spread.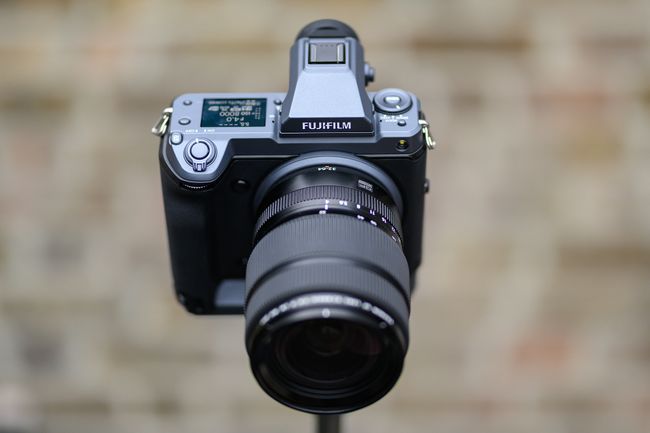 Autofocus Of The Fujifilm Cam Technology
Intelligent Hybrid AF (contrast- and phase-detect AF)
117 AF points, expandable to 425 points
Face/Eye Tracking
The difference between the system here and those inside the other GFX models is clear. While those two models focus perfectly well on static subjects, there's noticeably less delay on the GFX 100. 
Focusing isn't quite as immediate as on some other mirrorless cameras, but the difference is negligible. And the boost over the older GFX models is easily noticeable. Especially given the size of the lenses for the system, the GFX 100 does impressively well to get a lock on subjects as quickly as it does. And it continues to focus without much hassle when light levels drop.
A camera like the Fujifilm GFX 100 will probably not be anyone's first choice for action photography. Although the comprehensive X-series level of control over the focusing system. And the option to shoot at 5fps for up to 41 raw frames, means it isn't completely out of the question here either. 
Switching between focusing modes is simply a matter of turning a small dial on the rear of the camera. And the AF area mode can be changed through the Q. Menu. The camera generally does well to keep a lock on subjects as they move around the scene. Although it does seem to get distracted on occasion, and often loses the subject during continuous bursts of images.
Image Quality Of This Cam
Superb detail in images
Excellent noise control
Great video quality
Both the GFX 50R and GFX 50R have shown themselves to control noise very well. And the GFX 100 follows them in doing just that. Images captured indoors at sensitivities as high as ISO6400 or ISO8000 remain completely usable, with excellent details lurking behind very faint noise. Noise reduction also isn't too destructive in-camera, if you do choose to have this on for JPEGs.
One of the reasons people opt for a medium format camera over one with a smaller sensor is to achieve a greater dynamic range. The main advantage for most people here is that they can underexpose images to protect highlights. And lifting the shadows later on to regain a more appropriate exposure.