Canon EOS Rebel SL3 / EOS 250D Camera The Beta Tech
Welcome to The Beta Tech. Today I will tell and guide you about the basic functionality and features of the Canon EOS Rebel SL3 / EOS 250D Camera The Beta Tech.
Overview To Canon EOS Rebel SL3 / EOS 250D Camera
Positioned between the EOS Rebel T6 / EOS 1300D and the more advanced EOS Rebel T7i / EOS 800D, the Rebel SL3, also known as the EOS 250D and EOS 200D II, updates the very capable EOS Rebel SL3 / EOS 250D that surfaced two years ago. Much of the Rebel SL3's core feature set is familiar to us, but this is the first time we're seeing 4K video on a DSLR this cheap from any manufacturer.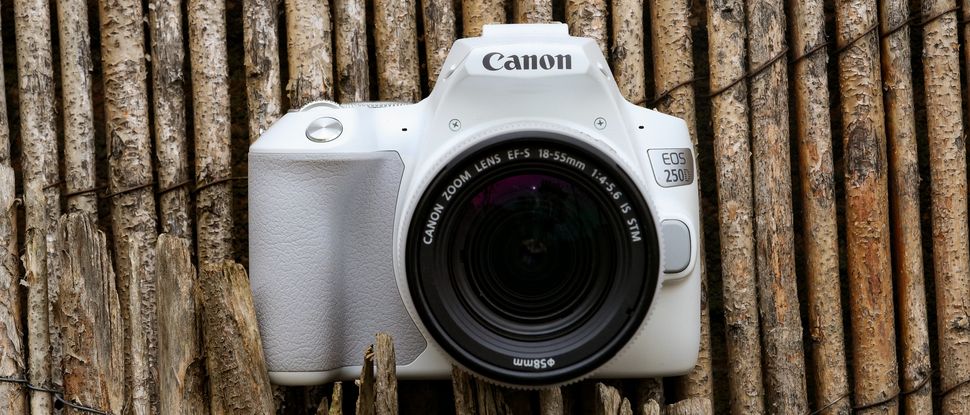 Features Of Camera The Beta Tech
24.1MP APS-C sensor with Dual Pixel CMOS AF
DIGIC 8 processing engine
4K UHD video recording to 24p
Like rival Nikon, Canon has now fitted many of its DSLRs with 24MP APS-C sensors, and the EOS Rebel SL3 is the latest recipient. This is believed to be the same sensor that starred in the previous Rebel SL2, and it arrives with a similar Dual Pixel CMOS AF system built into it.
This system uses pixels in the sensor to perform phase-detect AF, which is the way DSLRs normally focus when you use the viewfinder. By having this on the sensor, it allows the Rebel SL3 to focus quickly when using live view or when capturing videos – something we'll be exploring in more depth later.
The camera can first burst of images at a respectable 5fps, which is unchanged from the Rebel SL2, despite the presence of the newer DIGIC processing engine. This engine does, however, support 4K video capture to 24p, although there are a number of restrictions.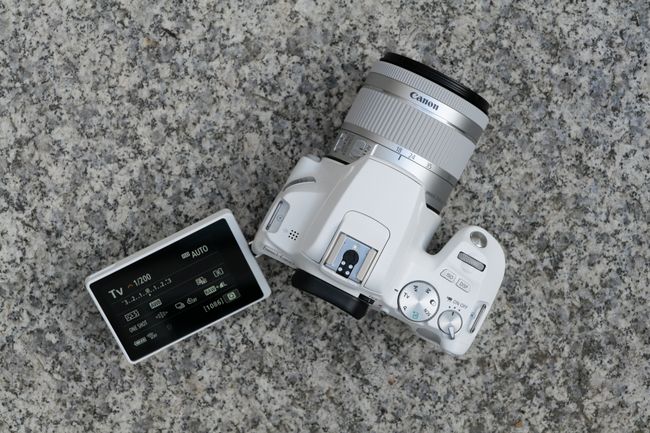 Build and Handling Of Canon EOS Rebel SL3 / EOS 250D Camera
Aluminum alloy/polycarbonate resin chassis
Largely polycarbonate resin exterior
World's lightest DSLR with a moveable screen
Canon bills the EOS Rebel SL3 / EOS 250D as being its smallest and lightest DSLR yet. It's actually its joint-smallest – the 122.4 x 92.6 x 69.8mm dimensions are precisely the same as the Rebel SL2's – while the black option weighs 4g less than the black Rebel SL2 at 449g, and the white option is 5g lighter than the white SL2 at 451g, all of these measurements including the battery and card.
Nikon does manage to beat this with its D3500 model, which weighs 415g, although, as Canon points out, the Rebel SL3 is the lightest DSLR with a movable LCD screen. In any case, such a small difference shouldn't be a deal-breaker; it's small, light and no bother to carry around for extended periods of time.
The Rebel SL3's body follows much the same design as the Rebel SL2, although Canon has made a number of small tweaks. The SL3 loses some of the SL2's curves and adopts a more angular style, while some of the controls have been subtly restyled. The depth-of-field preview button has been dropped from the front plate, as has the flash button; to raise the flash you now pull it upwards from one of the grooves to its sides.
Autofocus Of Camera The Beta Tech
Dual Pixel CMOS AF with 3,975 selectable points
Eye Detection AF and new Spot AF feature
9-point AF system when using the viewfinder
When you're using the viewfinder, autofocus is handled by nine AF points arranged in the familiar diamond pattern. This appears to be the same system we saw inside the previous Rebel SL2 and it is, frankly, a little disappointing.
While it covers a reasonable portion of the frame, and may well be fine for static and more distant subjects, the low number of points and their distance from one another make focusing a bit harder when the subject is close up, and you need a point to fall somewhere outside of the nine pre-determined positions.
It also doesn't bode well for tracking moving subjects, which relies on points being closer together, and the fact that only one point is cross-type means the other eight are only sensitive to details in one orientation – this can usually be a bit more of an issue against low-contrast and/or low-detail subjects, although the camera does surprisingly well to find focus against even quite featureless subjects.
In good light, the system does a good job of swiftly bringing subjects to focus. In very good light the camera can focus as quickly as you half-press the shutter-release button when you're using the 18-55mm f/4-5.6 IS STM kit lens. Only when it comes to switching focus between close-up and distant subjects, or vice-versa, does the system slow to a more leisurely pace.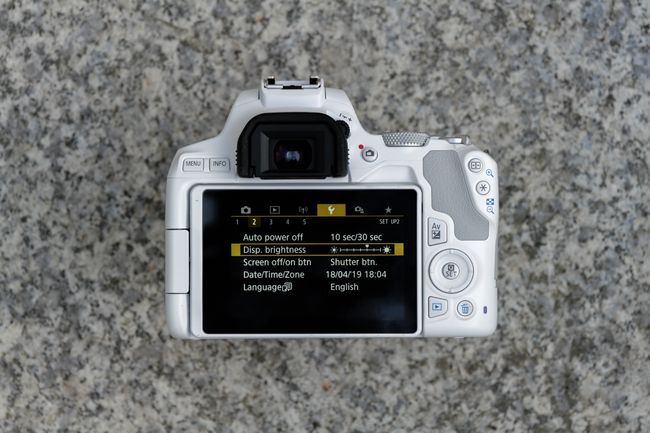 Image quality Of Camera The Beta Tech
Generally the reliable metering system
Nice colors and sound auto white balance
Very good 4K footage but noticeable rolling shutter
While this may be one of the most affordable DSLRs on the market, previous entry-level Canon EOS DSLRs have gotten a lot right with regards to the imaging side of things, and the EOS Rebel SL3 is no different.
Images are generally well exposed across a variety of conditions, from outdoors when there may be a mixture of skies and foreground to indoor scenes with an assortment of highlights, shadows, and mid-tones. Heavily clouded skies can sometimes lose a little bit of their detail, so keeping the Highlight Priority Option enabled in these conditions is worthwhile. The Auto Lighting Optimizer is also worth keeping on to lift shadows a touch in scenes with a wide dynamic range, and even in the Low setting, it has a worthwhile effect.
Colors are mostly very pleasing. We generally found the Landscape Picture Style to be a better option than the Standard setting when capturing images outdoors that contained large areas of blue skies, as they could look a little undersaturated on Standard, although this option performs well otherwise.
Images captured in quick succession show the camera's auto white balance system to reproduce the scene consistently in different conditions too. White balance can be particularly problematic indoors, and with mixed lighting, but the EOS Rebel SL3 copes very well.
We don't expect optical excellence from kit lenses such as the EF-S 18-55mm f/4-5.6 IS STM that ships with the camera as standard, and the lens does show a touch of mustache-like curvilinear distortion at its wide-angle end, and some vignetting when used here at f/4.