HP EliteDisplay S14 USB Portable Monitor :Tech
The $ 219 HP EliteDisplay S14 has some impressive specs for a portable monitor.
though the niftiest of all boils down to one letter: "C." This business-oriented travel monitor has a full HD (1,920-by-1,080-pixel) native resolution , using a 60Hz panel with a 5ms response time. The listed static contrast ratio of 700: 1 is nothing to write home about, but it uses an in-plane switching (IPS) panel, not the lesser TFT LCD you might expect. And it's powered — video signal and juice alike — solely by a USB Type-C port. If you have a late-model laptop that supports DisplayPort over USB-C, this is an ideal second-screen companion that will double your desktop space wherever you travel, and be easy on your eyes (and shoulders) while doing it.
Compact, slim and edged
When it comes to portable monitors, image quality is perhaps as important as its physical attributes, or perhaps even slightly less. This is in contrast to typical desktop monitors, where the image you watch all day is of utmost importance. It becomes an integral part of your workspace, as constant and psychologically invisible as wallpaper. Grayish black, low refresh rates, and dull colors are not the tradeoffs you want or need to make.
However, with a portable monitor, you can live with some visual tradeoffs. However, key mobility factors such as size, weight, and power requirements. If you cannot fit it in your carry-on baggage, you cannot use it at all during this large presentation.
Thus, the HP EliteDisplay S14 is the ideal companion for laptops with a screen of 13.3 or 14 inches. Those with 15.6-inch laptops will not have the same symmetry. Such a small size makes it more portable – it measures 0.34 by 12.91 by 8.2 inches (HWD) and weighs just 2.2 pounds – which is positive, but not ideal if you really need the maximum screen area.
Frustrated
The monitor comes with a magnetic cover that doubles as a stand, which is a pretty standard rate for such devices. This cover, however, does not cover the entire device; It protects only the screen. It is fairly firmly held in place, so you don't need to worry about the cover sliding off and exposing the display to scratches and the like, but would like it to not leave the back open. Over time, this will be frustrated.
The lid as a stand really gives you only one orientation: horizontal format with a deviation of approximately 15 degrees. And, unfortunately, the HP EliteDisplay S14 does not work in a vertical orientation at all. The image on the screen will not rotate in the style of a smartphone or tablet, even if you find a way to fix the panel to its narrow edge. I would rather see a little more flexibility here. The choice between three angles or even between two will be of great importance.
The single orientation and position are at least strong enough, so I feel comfortable leaving him on the table and leaving to do something else, without worrying that he will fall.
The only oddity of the magnetic case is that the magnet is bulky, so there is a wide protrusion on the bottom of the monitor. From an aesthetic point of view, this is not the most attractive thing. At first, I was worried that this would lead to instability, but the rest of the cover coverage is excellent. I assume that the strength of the magnet and its size is a compromise worth making.
Controls, Presets, and Communications
HP EliteDisplay S14 has a power button on the left edge; the most important USB Type-C port is on the right. It comes with a USB Type-C cable about six feet long, so you'll be long enough no matter which side of your laptop the USB Type-C port is on and how far you want to place the monitor.
Cable length – a double-edged sword. This can be great if you need the flexibility to move the second display, for example, if you are giving a presentation at a conference room table. If, on the other hand, you are trying to fit yourself and your load into, say, a small Starbucks table, that's a lot of extra cord. You might want to have another short cable on hand at such times.
Please note that there is no separate power cord for the HP EliteDisplay S14. All juice is fed through the USB Type-C port on your PC. This is one of the great benefits of USB Type-C. The solution with a single cable for power (via USB Power-C Power Delivery, or "PD"), audio and video makes the ideal installation of a portable monitor, free from clutter and not connected to a wall outlet.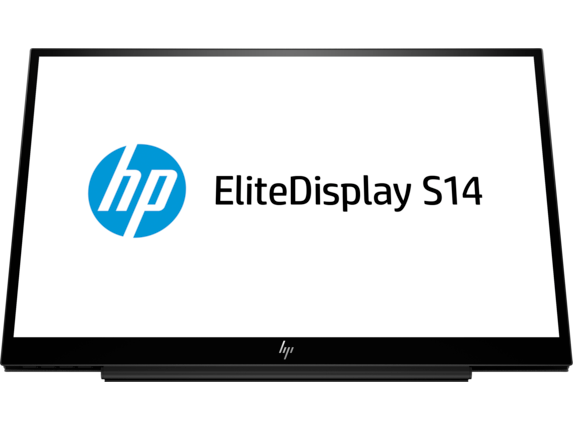 Flexible
However, since the laptop you are connecting to the monitor is powered by this large, bright display, its battery runs out faster than usual, so try plugging this host laptop into a power outlet whenever possible. But you don't need to make USB-C setup so flexible.
On the other hand, I would like to have a power cable option that I could use with the HP EliteDisplay S14 so that in some circumstances I could remove the power requirements from the connected PC. The monitor can pull up to 15 watts. In addition, although at the moment no one is doing this on mobile monitors, as far as I know, I like the idea of ​​connecting the monitor to a wall outlet and using this path to power a laptop connected to USB-C.
You can also choose from six preset viewing modes: Low Blue Light, Night, Read, HP Enhance +, Multimedia, and Photo. If you want to play with different settings to customize the display to your liking, simply select Custom to use it instead of one of the presets.
It's a little incomprehensible to me how the monitor defines "Custom", but it seems to be returning to the settings that you last manually configured. For example, I set the brightness level to 100 and did the same for contrast. When I switched to the preset mode and then returned to Custom mode, both settings remained at 100.